BUILDING YOUR COMPETITIVE ADVANTAGE GAP FROM BAD HIRES, REFLECTION, AND VULNERABILITY
"We do not learn from experience... we learn from reflecting on experience."

― John Dewey
You or your team hired someone who failed. They may not have had the skills, character, personality, or perspective that the position required.
It's easy to write the failure off completely to the candidate, setting yourself up to make your mistakes over again.
But great companies don't make mistakes repetitively. And if we really believe that our people are our greatest asset, a failed hiring process is a big deal. We must not squander those lessons!
Imagine how much more effective your company is if its turnover rate is 1 in 4 hires versus a competitor who may have an average 1 in 2 turnover rate! Over time, that's a massive difference in energy allocation that is better spent on securing new business and improving product quality.
Companies who build teams better tend to grow at greater sustainable and healthy stress levels. A quick learning pace is key.
LET'S GET THE EXCUSES OUT OF THE WAY
Often the unproductive internal conversation sounds like…
"They didn't tell us about that in the interview."
"Their performance was lackluster."
"They required too much hand-holding."
"They didn't fit our culture."
"They didn't do the job properly."
Etc, etc, etc…
Does your team abdicate ownership to the failed employee, and thus fail to learn for the next hire?
When a teammate fails, does the team look retrospectively at the ways it may have failed its teammate? Communication? Training? Encouragement? Accountability?
STEPS TO ACQUIRING ACTIONABLE INSIGHT
Conduct separate manager and employee exit interviews by a non-biased party. They can be internal or external. Ambassador Search Group can conduct these for you at a nominal charge if you like.
Review both exit interviews sequentially to recognize differences in perceptions and experience. It's important to ask the same questions for comparable results.
For managers who know how the exit interview will be used, this puts pressure on them to account for the employee's perspective. Otherwise, they will be seen to be clearly out of touch. Accountability without blame is healthy.
This is hard for some cultures to implement because of how failure is processed; as toxic and shameful.
Cultures that revere failure as an opportunity to grow and encourage (even reward) vulnerable ownership taking will benefit most.
Even if candidates are outright liars and deceptive, there are lessons to be learned about how the team goes about validating their claims.
THIS ISN'T EASY STUFF TO TALK ABOUT OPENLY
It's emotional and often complicated. The truth is multi-faceted.
Stakeholders have a psychological interest in being blameless
It's easier and safe to blame the now-gone employee
You don't know what you don't know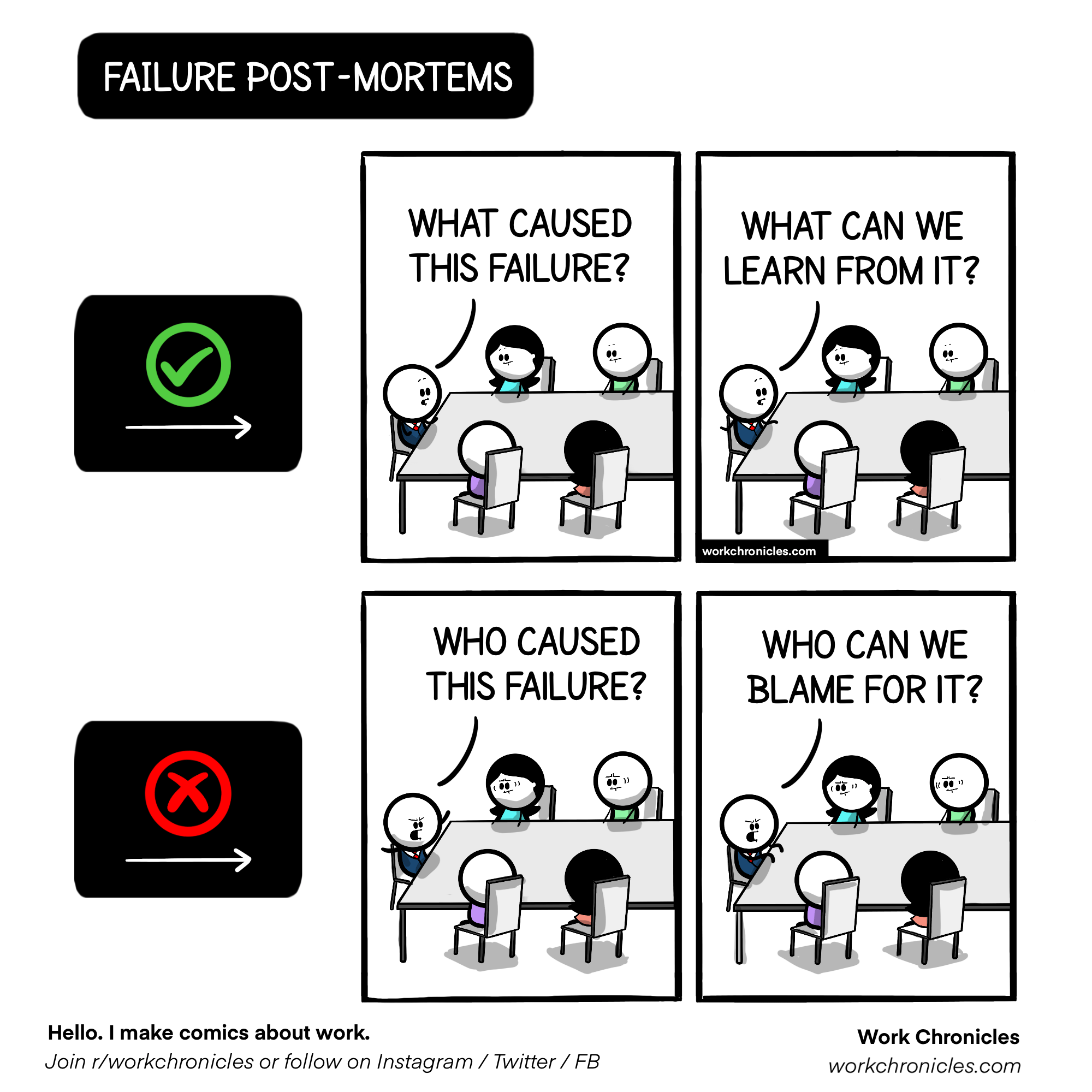 WHERE COULD THINGS HAVE GONE WRONG?
Culture fit
Job Performance
Mis-management
TIPS
Use 'what' questions instead of 'why' questions to keep people off the defensive. "What have we learned? What will we do differently?"
There will be differences of opinion. Leverage that as a good thing to come to a better understanding of the truth with the bigger picture in mind; learning how to build the team efficiently. Perspectives will be different and judgment must be used to extract actionable insight.
If you are a leader, demonstrate a culture of vulnerability by going first about what you would do differently. It's important for the vulnerable parties to feel trust and psychological safety in the conversation. No witch hunts!
Whatever failures your team demonstrated are your failures to own too, as a leader. Take ownership.
QUESTIONS TO ASK YOURSELVES
What did we fail to understand in the interview?
What expectations did we not set clearly enough and achieve mutual understanding on? Setting and saying expectations is not the same thing.
What skills did we not validate well enough? Asking about skills and seeing them borne out in answers to behavioral questions or sample problems is not the same thing.
How could our culture value and expectations been made more clear?
TAKE IT FROM A RECRUITER WHO SEES INSIDE ALL SORTS OF COMPANIES; THIS IS A BIG DEAL
Companies who quickly and cheerfully diagnose and change based on hiring lessons learned have a serious cultural and team-building competitive advantage.
WE WANT TO HEAR FROM YOU! WHAT DO YOU THINK?